MOREL
(Morchella Esculenta / Vulgaris / Conica / Rotunda)
Morel - Morchel - Spugnola
---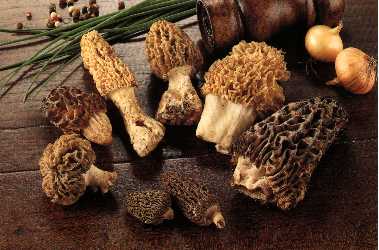 ---
THE MOREL
(Morchella Esculenta, Vulgaris, Conica, Rotunda)
Provenance : France, Turkey, Macedonia, Mexico, U.S.A., Canada, Spain, Morocco.
Season : From March to June - ( From October to December : Mexico)
Habitat : In aired forests, on the edges of woods and paths near apple trees, ash trees and elm trees as well as at the foot of mountain conifers.
Taste : Characteristic, mild and persistant.
Cooking tips :
The morel is a much sought-after edible mushroom. It is always used once cooked, in parsley, cream, stuffings, in omelettes, quiches, in sauces, served with white meats (such as veal), poultry, fish or pasta, rice or potatoes.
RANGE

FRESH

FROZEN

TINNED

DRIED

References

A++ or A+ quality

Raw (whole)

Fried

« Au  naturel », cooked, juice

Special, extra,

 standard, industrial, morel stems, pieces

 and flour

Packaging

Punnets 125 and 250g

Packets 1 and 3kg

Bags 300 and 450g,

1 and 2,5kg

Tins ¼

Glass jars 23,

44cl

Plastic jars 25, 50

and 250g

Plastic bags 25, 50,

500g,

Bags 1 and 2kg

Storage

4 to 5 days

18 months at

 -18°C

3 years

2 years
---