CHAMPIGNONS

World of Monteil
WILD MUSHROOMS

Wild mushrooms cannot be cultivated. Mushrooms' growth depends on many factors, which humans cannot control (soil and floral composition, rain levels, temperature, sunshine) and the mushroom picking is done by independent pickers, which are most of the time farmers and rural residents.

The hunting and picking methods stay very traditional: a wooden basket, a hazelnut wood stick, a pocketknife, pair of boots and above all, a well-developed sense of orientation to remember exactly where in a forest or a field the good spots are. Spots, which were often indicated by a grand-father under a seal of secrecy.

Chanterelle picker

Weighing of fresh cep

After the mushroom picking, pickers meet up at collection points located in large producing areas.  
In these areas, which are led by independent traders and the Monteil's employees, different varieties of edible mushrooms are gathered. There they check at first the quality of the products to determine the edibility and the sanitary state of mushrooms. They also determine the destination of every pack, it will go either to industry or to the fresh produce market. The mushrooms are placed in a cold storage (in refrigerated cabinet if possible).
Every night the goods are collected in each producing area by refrigerated vehicles to be transported to shipping and processing sites between 8 p.m. and 2 a.m.

Then the Monteil's employees start to work. They are specialized in quality checking while the goods arrive, selection, calibration and cleaning. All these tasks stay manual in Monteil company in order to control many times the edibility and the conformity of the products. The annual volume of mushrooms processed this way can be about 1500 tonnes (the volume depends on climatic variations and can halve from one year to another).

 

Above, sorting of chanterelles

 

Calibration of ceps

  Below, workshop with punnets 

The next step is the packaging and the shipping. For this Monteil company had to develop specific ways and means because of the fragility of its products and the diversity of demands.

   

 

   

The Monteil company ships its fresh or other products in more than 50 countries. The company is able to serve each client from anywhere in the world in 48 hours.
THE COMPANY AND THE RANGE
In 1920 the Monteil company was created  by Antoine Monteil in the heart of the wooded area exceptional for quality and quantity of boletus. The Monteil company has, since its beginning, focused in the gathering and the marketing of fresh boletus.
From 1950 Antoin's son Jean Monteil and his wife Elise develop  the Monteil et Fils Company by widening the range of shipping with fresh chanterelles, morels, trumpets and hedgehog mushrooms, which are very plentiful and of a very high quality in Brive region.
Since 1970, with the entry of Jean-Claude and then Michel, Jean and Elise's suns, the Monteil facilities sell 30 varieties of fresh mushrooms.
Thanks to its mastery of fresh wild mushrooms (collected, sorted, shipped since 1920), the company diversifies its range:
Either by tackling the old traditional markets of canning in 1971, see photo opposite

Then dehydrated wild mushroom

       in 1972, see photo opposite
- Either by offering the world FROZEN market the first wild mushrooms from 1974 (ceps, chanterelles and truffles),
- Or by the development of new products (18 new ranges in less than 20 years) :
Juice of wild mushrooms, (1989)
Frozen cooked wild mushrooms ready to eat: (Range «Les Poêlées des Bois», 1990) see photo opposite, cooking of "poêlées".

 
 

The natural powder extracts of wild mushrooms: (range «Boscarom», 1990)
Fresh wild mushrooms punnets for retail (range «Les Petits Paniers», 1991) see photo opposite.

Black truffle oil (1992)

Mushroom flours, dried mushroom chips: (1993) see photo opposite.

 

 

Fresh wild mushrooms punnets for retail (Barquettes de champignons) (second generation, specially designed to resist, conserve and make attractive all fresh produce shelves, 1995). Photo opposite: The Monteil company winning the price Image and Attractiveness of the SIAL 96 for this package.
Wild mushrooms in brine slightly acidified: (range industry and caterers, 1996)
Pre-cooked frozen wild mushrooms (Range «Les Oréades», 1997)
Italian specialities: white truffle oil, boletus marinated in olive oil (Range «Toccata», 1998)

 

·        Blanched mushrooms ready for use (range  «la 5ème GAMME», 1999)

·        Stuffed mushrooms (boletus, chanterelles, range «LES FARCIS», 2000)

 

 
 

·      Fresh wild mushrooms in protected parcel (range «COLIS Sécurité», 2001)

·      Fresh wild mushrooms ready for use (range «les CHAMPIGNONS NETS», 2002)

 
 
·        Grounds of wild mushrooms (range «les HACHIS», 2003)

·      Dried wild mushrooms in chips and chunks ready for use (range les P.A.I. ; 2004)

·      Frozen wild mushrooms in chips and chunks ready for use (range les P.A.I. ; 2005)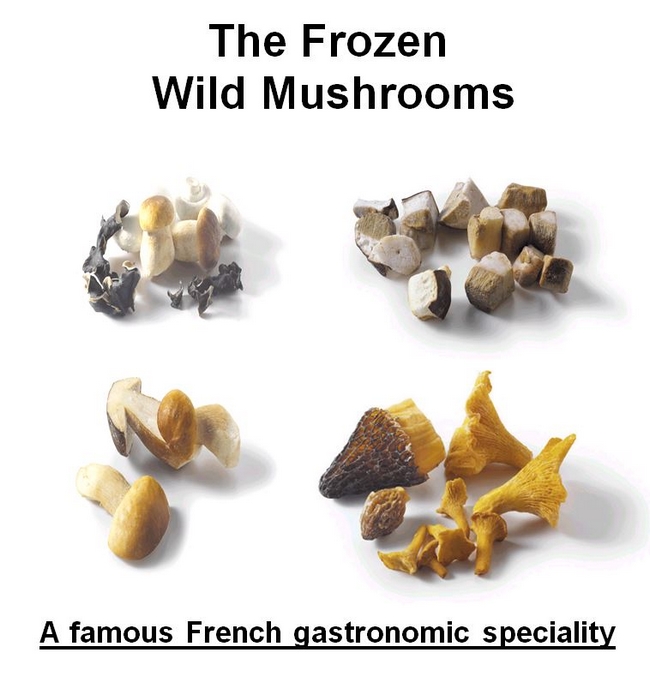 ---