CEP
(Boletus Edulis / Aereus / Pinicola)
Cep - Steinpilz - Porcini
---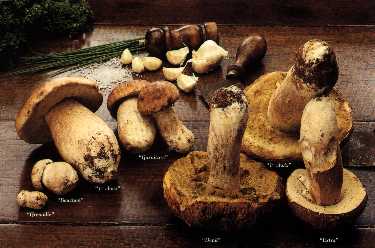 ---
Provenance : Turkey, Macedonia, Bulgaria, Slovenia, Yugoslavia, Serbia, Poland, France,
Spain, Portugal, Morocco, South Africa.
Season : June, September to November (February/March in South Africa)
Habitat : in clearings and on the edges of woods (oak, beech, chestnut and hornbeam trees)
Taste : characteristic and pronounced, like hazelnut or chestnut.
Cooking tips :
The Boletus is well-appreciated and is used in many traditional recipes. It also inspires cooks for modern and original dishes. Both the cap and the stem are delicious. The Boletus can be eaten raw, marinated in salads, cooked in pâtés, stuffings or pies. It can also be fried, grilled or used as a garnishing. Prepared simply with parsley in an omelette, or with pasta or potatoes, the Boletus is also delicious.
RANGE

FRESH

FROZEN

TINNED

DRIED

BRINE

References

Baby Cep, extra, first choice,

 

Raw (Baby Cep, extra, whole, cubes, pieces), blanched and cooked

« Au naturel », in oil, cooked, mashed,

juice

Sliced (special,

extra, choice,

standard,industrial

Whole, stems and pieces

Packaging

Punnets 125 or 250g

Packets 1 and 3kg

Plastic bags 300 and 450g,1 and 2,5kg

Punnets 150g (fried)

Packets 5 and 10kg

Tins 1/4,1/2,4/4,5/1,

Glass jars 23, 44, 66cl

Plastic jars 25, 50, and 250g

Bags 25, 50, 500g

Pockets  1 and 2kg

Casks 20 and 40kg

Storage

2 to 3 days

between +2 and 5°C

18 months at –18°C

3 years

2 years

1 year
---