FAIRY RING MUSHROOM
(Marasmius Oreades)
Fairy Ring Mushroom - Nelkenschwindling - Gambesece
---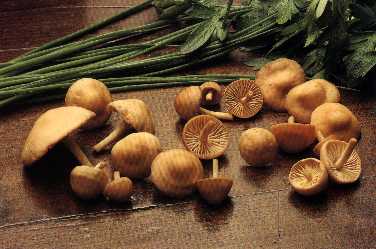 ---
Provenance : Turkey, Bulgaria, Slovenia, France, Spain.
Season : From May to July and September to October.
Habitat : in meadows, on lawns in circles.
Taste : Characteristic, pronounced, like flour or bitter almonds.
Cooking tips:
The Fairy-Ring Mushroom is very fragrant and a reasonable quantity is enough to flavour a dish. The fibrous stem is to be discarded.
The Fairy-Ring mushroom is usually eaten cooked, in parsley, cream, with white meats (porc, poultry, veal) which it seasons.
It can be added to omelettes, in soups and in sauces.
Range

Fresh

Frozen

Tinned

Dried

References

A++ or A+ quality

Raw, fried

« Au naturel », cooked, juice

Extra or standard

Packaging

Punnets 125 and 250g

Packets 1, 2 and 3kg

Bags 300 and 450g,

1 and 2,5kg

Punnets 150 (fried)

Plastic bags 5 and 1kg

Tins 1/4, 1/2, 4/4

Glass jars 44cl

Plastic jars 25, 50, and 500g

Bags 25, 50, 500g,

Bags 1 and 2kg

Storage

4 to 5 days

between +2 and +5°C

18 months at - 18°C

3 years

2 years
---