ST GEORGES' MUSHROOM

(Calocybe Gambosa = Tricholoma Georgii)
St Georges' Mushroom - Mairitterling - Funghi di San Giorgio
---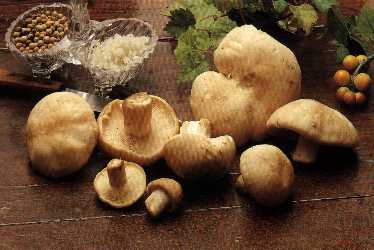 ---
Provenance : France, Spain, Bulgaria
Season : From April to June
Habitat : grows in circles or in lines in fields, in bushes, on the edges of woods.
Savour : mild and pleasant, reminding one of fresh flour.
Cooking tips :
The Saint Georges is very fragrant and a small quantity is enough to flavour a dish. (about 50g per head)
It can be eaten cooked in parsley and garlic, in cream as a garnishing for white meats (porc, poultry, veal) and seasons them well. With nobler products, such as asparagus, salmon, crayfish which bring out its fine flavour.
The Saint Georges can be added to omelettes and is also used for making sauces.
RANGE

FRESH

FROZEN

References

Quality A++ or A+

Raw

 

 

Fried

Packaging

Punnets 125 and 250g

Plastic bags 300 and 450g

 

Packets 1.5 and 3kg

1 and 2.5kg

Packets 5 and 10kg

Storage

4 to 5 days between

+2 and+5°C

18 months at -18°C
---