WOOD HEDGEHOG

(Hydnum Repandum)
Semmelstop Pelpilz - Steccherino Dorato
---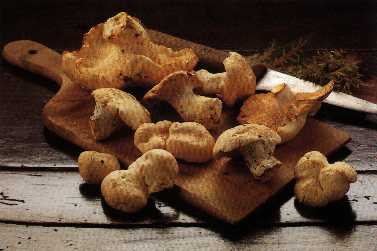 ---
Provenance : France, Bulgaria, Slovenia, Croatia, Spain, Portugal.
Season : from August to February.
Habitat : woods or residious soils.
Savour : pleasant, slightly peppery, its flesh is thick and firm.
Cooking tips :
" à la Grecque ", fried in oil, served hot on a frizzly salad, as a garnishing for meats, poultry and game, or with eggs or potatoes.
| | | | |
| --- | --- | --- | --- |
| RANGE | FRESH | FROZEN | TINNED |
| References | Quality A++ or A+ | Blanched, | " au naturel " |
|   |   | Fried (finely sliced) | Juice |
| Packaging | Punnets 125 and 250g | Packets 300 and 450g | Tins 1/2, 4/4 |
|   | Packets 1, 2 and 3kg | 1 and 2.5kg | Glass jars 44, 66cl |
|   |   | Punnets 150g (fried) |   |
|   |   | Plastic bags 5 and 10kg |   |
| Storage | 4 to 5 days between +2 and +5 °C | 18 months at -18°C | 3 years |
---