CHANTERELLES

GREY

 
(

Cantharellus Tubiformis)

 




Grey Chanterelle

 


Herbst Pfifferling

 


Cantarello a Tromba

YELLOW FOOT

 
(

Cantharellus Lutescens)

 




Yellow Foot Chanterelle

 


Goldstiefliger

 


Finferia

 
---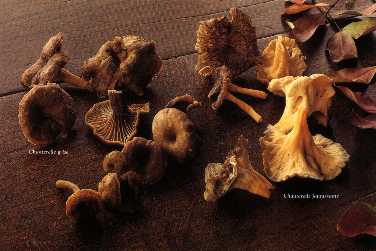 ---
Provenance : France, Bulgaria, Sweden, Spain, Portugal.
Season : Grey : From October to January
              Yellow Foot : From November to February.
Habitat : Grey : under conifers and leafy trees, often in moss or pine needles where they can
   form important colonies.
               Yellow Foot : under leafy trees and conifers i mountaineous regions as well as
   coastel wooded dunes.
Savour : mild and pleasant reminding one of the under-woods (Grey Chanterelle),
   and is fruity (Yellow Chanterelle)
Cooking tips :
Chanterelles may be added to numerous recipes : cooked with meat or game, or in the juice of a fish cooked in the oven.
They can also be fried ,with or without parsley and garlic, to be served hot on a salad, or as a garnishing for meats, fried potatoes, or mixed in an omelette.
| | | | |
| --- | --- | --- | --- |
| RANGE | FRESH | FROZEN | DRIED |
| References | Quality A++ or A+ | Raw, blanched, fried | Extra |
|   |   |   | or standard |
| Packaging | Punnets 125 and 250g | Packets 300 and 450g | Jars 25, 50 and 500g |
|   | Packets 1, 2 and 3kg | 1 and 2.5kg | Packets 25, 50, 500g |
|   |   | Plastic bags 4 and 8 kg | Plastic bags 1 and 2 kg |
| Storage | 4 to 5 days | 18 months at -18°C | 2 years |
|   | between +2 and +5°C |   |   |
---