BOLETES
---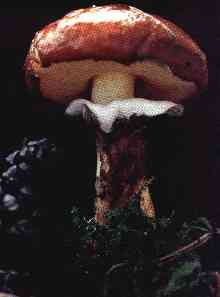 ---
Slippery Jack: Boletus Luteus = Suillus Luteus ,
Bai Bolete: BoletusBadius = Xerocomus Badius,
Granulatus Bolete: Boletus granulatus = Suillus granulatus
NB: ceps/porcini are boletes, but all boletes (including these) are not ceps/porcini !
Origin :
Luteus: Chile, Turkey, China
Badius: France, Turkey, Poland
Granulatus: China, Poland
Growing season : summer, autumn
Description :
Luteus: has a cone-shaped cap which becomes convex. The cuticle of the cap is yellow-brown to dark red brown, it is thick and viscous and must be removed before eating the mushroom. Its tubes are citrine yellow becoming light brown. The Luteus stem is firm, citrine coloured towards the top and browner at the base. Its ring is large and menbranous. Its flesh is tight, tender and whitish, and has a  mild and fruity flavour and a pleasant fragance.
Badius: has an hemispherical cap which becomes flat, sturdy and fleshy. Its surface is slightly velvety in dry weather, becoming slightly viscous in humid weather. It has a browny-red colour . Its yellow green coloured tubes turn blue to the touch. Its stem can differ in size, being sometimes tall and slim, sometimes short and thick. It is browny-yellow in colour and is filled, firm and smooth and has no ring. The mushroom's flesh is thick and firm when young, turning blue when cut. It has a mild flavour.
Granulatus: has a globular  cap which becomes convex and flat. It is fawn coloured or yellowish-brown and has short, pale yellow tubes with small pores of the same colour. Its stem is firm, yellow turning brown. Towards the top it is covered with brown or coloured granulated punctuations, and has a yellowish white soft flesh. It is preferable to eat it when young.
Advised uses : boletes can be used in various cooking preparations: with meat or  game in a sauce or cooked in the gravy of poultry or that of a baked fish. They can also be fry-panned with or without parsley and then served hot as garnishing for griller meat, sauteed potatoes , or can also be mixed with eggs.
Range

Fresh
Frozen
Dried
Brine

Storage:

4 days between +2 and +5ºC
18 months at -18ºC
2 years
1 year

Packaging:

- Carton punnet  8*125gr or 6*250gr. 
- Wood punnet bois 6*500gr. or 3*1Kg. 
- Packet 1kg, 3kg.

Bags 10*450g, 5*1 and 2*2,5kg

Plastic bags 5 and 10 kg
- Plastic jars 25, 50, and 500g
-

Packets 25, 50, 500gr, 1kg.

- Bags 1kg, 2kg, 2,5kg.
Casks of 20 and 40kg
---