TRUFFE NOIRE
(Tuber Melanosporum)
Black Truffle - Schwarze Truffle - Tartufo Nero
---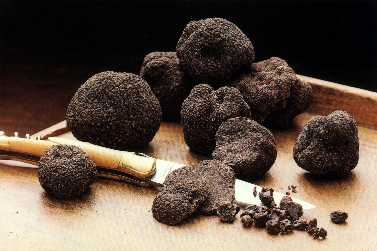 ---
Season : From November to March.
Habitat: Truffles grow in stony soil of chalky origin, associated with different essences of trees such as oak, hazelnut, hornbeams and linden trees.
Taste : pronounced and very characteristic. Their fragrance is strong and persistant.
Cooking tips :
The truffle can be prepared cooked or raw, whole or in slices or grated.It therefor has many different uses in cooking : omelettes, pâtés, truffle turnovers, truffles cooked in embers, poultry stuffed with truffle, pasta with truffle, salads with truffle. In all cases, do not overcook, as the aroma is volatile. Its full flavour can be appreciated if used raw and very finely sliced, heated in a very hot dish of pasta or eggs for example. The fragrance of the truffle is so penetrating that eggs or rice can be perfumed by closing them in an air-tight container with a truffle.
RANGE

FRESH

FROZEN

TINNED

Other products

Reference

Whole (extra, cat 1, cat 2,

Pieces and fragments

Whole, sliced, pieces, fragments

Whole 1st choice, Pieces, fragments

Juice, truffle puree,

black truffle aromatic oil

Form

Whole regular or irregular

Smell

Characteristics and strong

Taste

Sweet, tasty and delicate

Regulatory reference

Décision n° 67 of CTCPA (for the enumeration process of varieties by weighing) and Decree of 30 January 2012 (for manufacturing). By its composition this product is suitable for a name "truffle" according to the laws in force

Nutritional values  /100g

Energy

85 kcal / 355 kJ

Sugar

0 g

Fat

1 g

Protéines

5,5 g

Satured fatty acid

0,1 g

Salt

77 mg

Carbs

13 g

 

 

Traçability

Assured

Bar code

Codification EAN 13 (or UPCA/UPCE) on request.
---
TRUFFE D'ETE
(Tuber Aestivum)
Summer Truffle - Sommertruffel - Scorzone
---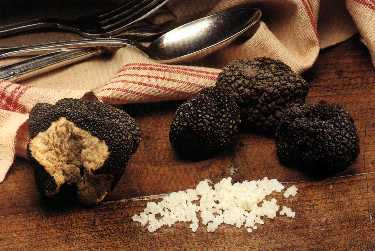 ---
 Season : From May to October.

Habitat : In soils of chalky origin, under oak, pine and juniper trees.

Taste : bitter pleasant and delicate raw in salads or sweet in wine sauce or stuffing when cooked in slices or pieces for "sauce périgourdine".
Range

Fresh

Frozen

Tinned

References

Whole, pieces, fragments

Whole, slices, pieces, fragments.

Whole, pieces, fragments.

Packaging

Plastic vacuum bag 100g, 250g, 500g, 1kg,

plastic bag 100g, 250g, 500g, 1kg.

Tins 1/8,1/4,1/2,4/4

Tins 2/1 (fragments)

Storage

1 week between +2 +5°C

18 months at - 18°C

3 years
---
TRUFFE D'ALBA
(Tuber Magnatum)
White Truffle - Weisse Trüffle - Tarruffo d'Alba
---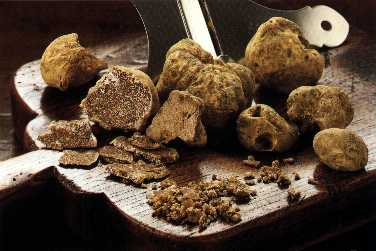 ---
Provenance : Italy
Season : From October to December
Habitat : likes humidity, is found in localized areas of Northern and Central Italy, associated with different essences. (oak, poplar and hazelnut trees)
Savour : Flavour and fragrance are very characteristic and powerful.
Cooking hints :
The Alba Truffle can be cooked but is usually used raw. Traditionally, one slices it with a « mandoline », but it can also be grated. It is served on hot meals, eggs, pasta and risotto.
The Alba Truffle's fragrance is such that it is used more as a condiment or spice than as a mushroom. A few grams per head are enough to flavour a dish.
White truffle can be kept a few days in the fridge, carefully wrapped in foil paper ; otherwise they will flavour all other food in the fridge.
As for the Black Truffle, this phenomenon is used to perfume eggs or rice by closing them in an air-tight dish with a truffle.
RANGE

FRESH

OTHER PRODUCTS

References

Whole (extra, cat.1, cat. 2, pieces,

White truffle purée

Aromatic white truffle oil

Packaging

in punnets

25 and 50g tubes

250 and 100ml bottle

Storage

1 week between +2 and +5°C

3 years

1 year
---