Little punnets
"LES PETITS PANIERS"
---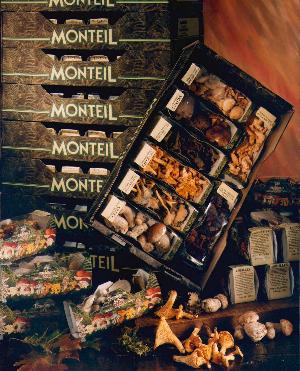 ---
The whole Monteil range of fresh wild mushrooms.
Adaptation to shelves for supermarkets, specific study of wild mushrooms : ventilation, weight loss, stacking.
Adaptation to the shopping cart of the housewife: resistance of the tray, protection of the product.
Hygiene: untouchable product, tamper-proof tray.
Convenient, attractive and festive packaging.
---

Présentation
Wild mushrooms are presented in trays specially designed to preserve and enhance them. The whole range is represented. The trays, printed in colour, are of a material, a shape and a volume studied for an optimal shelving and storage. They are airy and equipped with a transparent PVC sheath allowing excellent showing and ensuring product protection. Each tray includes an informative and closing label specific to the variety.

Packaging
125 gr punnet (cardboard trays of 8 punnets, pallet of 72 or 96 cardboard trays)
250 gr punnet (cardboard trays of 6 punnets, pallet of 72 or 96 cardboard trays)
Possibility to combine several varieties in the same tray and to make special or seasonal assortments.

Available Products
Ceps/Porcini, Girolles/Chanterelles, Morels, Truffles, grey and yellow Chanterelles, Hedgehogs, Tricholoma, Fairy Rings, black Trompettes, Oysters, Shiitake, Saffron Milkcap, Parasol mushroom, Enoki, Shimeji ...
---