DISTRIBOX CONTAINER

---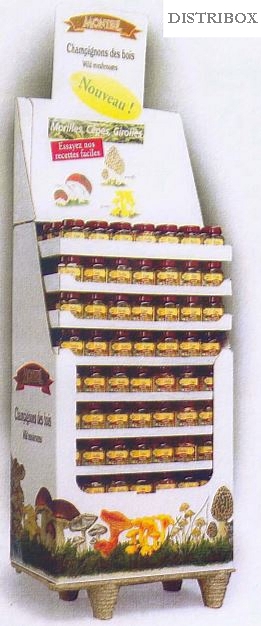 ---
The construction and the presentation of the Distribox container has been specially designed to allow instant identification of our products and by  this way to give more information to the customer.

The Distribox container, decorated with a wild mushrooms design along the bottom, once opened makes an attrative display.

---

Packing

1/4 full container of 280 jars of 25 gr (8 shelves of 35 on cardboard tray) ou 144 jars of 50 gr (6 shelves of  24 on cardboard tray) with protection,

Container on moulded pallet : recyclable / attractive / perfectly dry / certified to the export sanitary specifications,

The lower display shelf is raised at 35 cm above floor level,

4 containers on a 80 x 120 cm pallet.


Measurements
| | | |
| --- | --- | --- |
| MEASUREMENTS | CLOSED | OPENED |
| Length | 585 mm | 585 mm |
| Width | 402 mm | 401 mm |
| Height | 1210 mm | 1925 mm |
| Volume | 0.255 m3 |   |
| CAPACITY / TOTAL WEIGHT (LOADED) | 280 jars of 25gr / 24.5 kg | 144 jars of 50gr / 24.2 kg |
| Front | 7 pots | 6 pots |
| Depth | 5 pots | 4 pots |
| Number of shelves | 8 | 6 |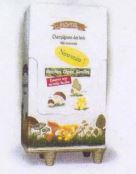 ---