CHANTERELLE
(Cantharellus Cibarius)
Chanterelle - Pfifferlinge - Gallinacio
---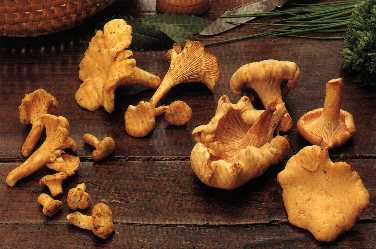 ---
Provenance : France, Turkey, Macedonia, Bulgaria, Slovenia, Croatia, Austria, Poland, Lithuania, Sweden, Russia, U.S.A., Canada, Spain, Portugal, Marocco.
Season : From May to February.
Habitat : In leafy or conifer woods, often close to paths.
Taste : very pleasant, pronounced, fruity.
Cooking tips :
The Chanterelle is one of the most well-known and appreciated edible mushrooms in many countries. It is used in numerous recipes : raw in salads, cooked in as sauce or fried to be served with meat, fish, fowl, poultry, or just simply prepared with eggs or potatoes.
RANGE

FRESH

FROZEN

TINNED

DRIED

BRINE

References

A++ or A+ quality

Raw, blanched, fried (whole or sliced)

« Au naturel », cooked,juice

Whole or sliced (extra, standard),

Flour

1st or 2nd category

Packaging

Punnet 125 250g

Packet 1 and 3kg

Bags 300 and 450g,1 and 2,5kg

Punnet 150g (fried)

Plastic bags 5 and 10 kg

Tins 1/4, 1/2, 4/4, 5/1

Glass jars 23, 44, 66cl

Plastic jars 25, 50, and 250g

Packets 25, 50, 250g

Bags 1 and 2kg

Casks of 20 and 40kg

Storage

4 to 5 days

between +2 and +5°C

18 months at

 -18°C

3 years

2 years

1 year
---