Fresh cleaned mushrooms ready to use
LES "CHAMPIGNONS NETS"

---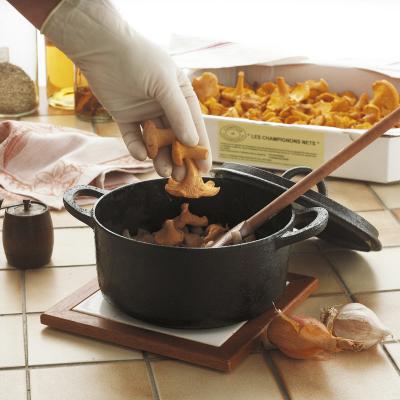 ---
100% fresh whole or sliced mushrooms.
No food preservative or dyes added.
Fresh product ready for direct use, quick and easy to use.
Complies with hygiene standards for fresh ready-to-use products.
Store at + 4°C for an optimal storage or + 8°C for a storage for 4 days
---

Présentation
The « Champignons Nets » are very fresh mushrooms carefully trimmed and cleaned, packaged in a sealed packaging. Closed by a film, this packaging allows to control the atmosphere in which the fungus lives. In this way, it is possible to keep the mushroom fresh and healthy in very high quality hygienic conditions, twice as long as in traditional packaging, without any consequent weight loss for 10 days. Its storage capacity is optimal between 2 and 4°C. We give storage times for a maximum temperature of 8°C.

Use

After opening the film, without other precaution, use the fresh mushrooms directly in the pan or wok: no waste of time, no waste.
0% work + 0% waste = 100% pleasure.

Packaging
Parcel of 1 kg, 1,5 kg,.

Dimensions of parcel : 400 mm*300 mm*70 mm, brutto weight 0,300 kg

Palettization : 800 x 1200 mm = shelf of 8 parcels, height of 20 parcels = 160 parcels of 1 kg netto weight (1,3 kg brutto weight) or of 1,5 kg netto weight (1,8 kg brutto weight).

Available Products

100 % mushrooms
Ceps/Porcini (best-before date of 7 days), Girolles/Chanterelles, Morels, grey or yellow Chanterelles, Hedgehogs, Tricholoma, fairy Rings, black Trompettes, Oysters, Shiitake, Saffron Milk Cap, Parasol mushrooms, Enoki, Shimeji ...
---